Our Artificial Grass Reviews – Our happy customers share their feedback on their artificial grass installation. Get high-quality product and installation from Green-R Turf.
Jethro Photos – Before
After
Your experience is our Highest Priority. At Green-R Turf, we take pride in making sure your artificial grass installation service with us was a great one! Please go to the link below to review us online today.
Thank you for sharing and reading our Green-R Turf Artificial Grass Reviews on Yelp and Google! We appreciate your loyalty, friendship, and kindness.
Robert was great! He was super helpful and got back to us right away. We never thought turf would be an option because of the price- but after talking to a handful of companies, we appreciated the professionalism, honesty, and commitment to making sure we were happy customers! He answered questions and helped us create the perfect set up for our yard. Our backyard looks great and the kids love playing outside on our "new grass." My only regret is that we didn't do it sooner. We love being in our great looking backyard and we owe our appreciation to Robert and his team!
Nicholas Blake
---
Robert and his crew did an incredible job on my House. I couldn't have asked for a nicer job! He did 5 inch linear strips by my pool and a large grass section next to my pool area.. I always get compliments. I interviewed 3 different companies and he was by far the most knowledgeable and provided a quality product at the same time.
Calvin Becerra
---
I cannot say enough good things about Green R Turf.  Robert and his crew did an exceptional job on my backyard.  It looks gorgeous and the quality of work was impeccable.  They were prompt and professional and such a pleasure to work with!  I will use them again for sure!
Debbie Bergstrom
---
Robert and his crews are second to none. Their highest concern is customer satisfaction, and it shows from start to finish.
Robert was great! He was super helpful and got back to us right away. We never thought turf would be an option because of the price- but after talking to a handful of companies, we appreciated the professionalism, honesty, and commitment to making sure we were happy customers! He answered questions and helped us create the perfect set up for our yard. Our backyard looks great and the kids love playing outside on our "new grass." My only regret is that we didn't do it sooner. We love being in our great looking backyard and we owe our appreciation to Robert and his team!
Tara B. Rancho Cucamonga, CA
---
Robert was great at taking the time to explain every product he had to me. He didn't try to pressure me into buying his most expensive product. He was honest and told m what he felt would give me the best look for the vision I had. He did a great job and he fixed any issues we had during and after the process. I highly recommend Robert and his team! Very professional company. I had interviews 4 companies and ended up going with Green-R-Turf and couldn't be happier!
Brandon And Berta B. Corona, CA
---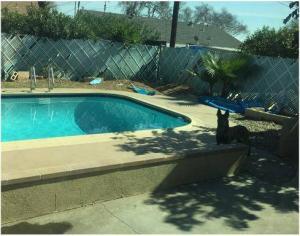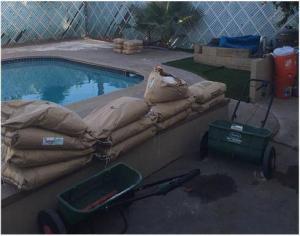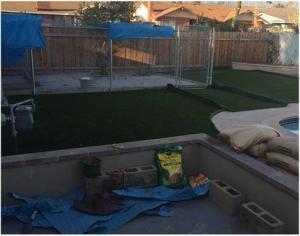 So my wife and I purchased our house in October of last year.  The house was completely redone except for the back yard which was hideous.  The grass was mostly dead so aside from the pool the yard was mostly dirt.  To make matters worse we have three big dogs who dig and play in the dirt and track it all into the house which makes everything extremely dusty and the walls dirty.  We thought about laying sod but because our neighbors on all sides have dogs we knew our little pain in the necks would dig through that to get to their buddies on the other side of the fence.
My buddy recommended Green-R-Turf because a friend of his used the company and was very satisfied with the results.  I scheduled an appointment and Robert came to my house to tell me about the process and give me an estimate.  He gave me the estimate on the spot.  I'm not going to lie, turf isn't the cheapest thing in the world but I felt that the benefit would be worth the cost.
A couple of weeks later the crew came out to start the job.  I can't say enough good things about the crew lead by Mike and Chris.  I have a pretty grueling job so on my days off I don't like to be bothered.  Aside from getting my opinion on a few things when they first started each day they didn't bother me at all.  They worked non stop for three days and let me tell you, it was labor intensive.  I can't stress enough how important it was that as the crew worked my family and I were able to live our lives uninterrupted.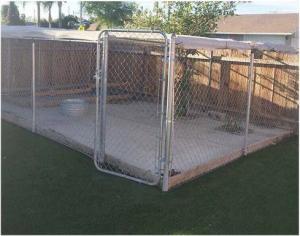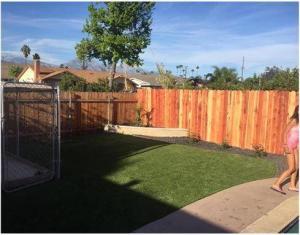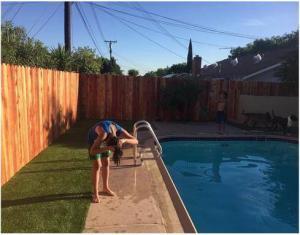 Continuing, We could not be more happy with the finished product.  After the turf was put in we had more work done to our backyard and it is now dirt free, dog friendly, and beautiful.  If you are looking for turf I highly recommend Green-R-Turf.
Jeremy O. – Rancho Cucamonga, CA
---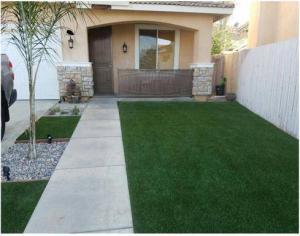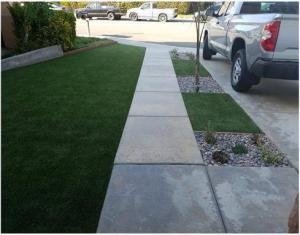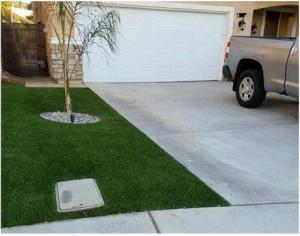 Turf was not even an option we were considering but after taking some estimates from several companies we were in between desert landscaping and artificial turf. So glad we went with the turf by far not the cheapest but looks great. We met with Kenny the salesman and he took his time with my husband and I letting us know our options of turf selections, their process of putting it in, prices, square footage and even drew out a design. Kenny was so patient with us after we decided to go with them when I added on or made changes to our original plans.
Now to the crew who came to install AWESOME…when they said they would be at my home at 7 am and would show up every day at 6:57 they did ,worked non-stop and back breaking work at that and when they were done they would clean up every time. The crew was very polite and always answered any and all questions we had and always asked before they did something just to make sure it was what we wanted …A big thank you to Green-R Turf for a doing beautiful job and being a reputable and honest company!!!!!!
Barbara B. – Fontana
---
Chris and Crew did an Awesome Job on our yard. First they had to remove our first Artificial Turf that was installed 8 years ago then dig out 8 TONS of DG before they could start with our Fresh base and Turf.
Chris made sure that every step of the install was done right
Thanks Again for an Awesome Job
Scott K.
---
WENT ABOVE AND BEYOND to make sure everything from start to finish was correct.  Priced right in the middle.  Best crew, best customer service.  Each person I dealt with was a perfectionist.  The quality of the product is outstanding.  Thanks to everyone that worked with me on getting my yard done.  They set the bar for any and all contractors out there in any industry.  Kenny the Rep was amazing.  They all worked well together and helped out each other at all times.  True professionals!  I would have them do my yard 100 times over.
Thanks, Green-R Turf! – Joey – Corona, CA
---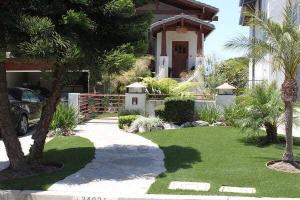 I would defiantly give the crew a 5-star rating (10 if it was an option) but I'm giving a 4 since in the area of communication with the sales rep could use improvement.  I felt like I was being properly courted but once the docs were signed – FAILURE to communicate and typical contractor excuses i.e., dropping the ball by not returning phone calls; oops – can't make it there was a wreck; failing to show up do to personal matters, etc.  Once the job is assigned to a crew, the foreman should be the direct contact to avoid leaving the customer from feeling clueless. I believe my mistake was using a company that is headquartered 40+ miles away.  The workers were not able to begin until 9:00 or later.
Now, for the good stuff.  Chris Holdcraft and his crew were so professional that I find myself at a loss to find the proper words to describe.  Their dedication to perfection is unquestionable.  Each guy knew his task and performed it like a well-choreographed ballet and the finished product has been stopping traffic daily and overall, I couldn't be more pleased with the final product.
Thank you Green-R Turf! – Lillian – Dana Point, CA
---
This company was great from start to finish!  We put artificial grass in the front and back and it turned out beautiful.  Robert was my salesperson and he was great and Chris was the installer and he did a fantastic job.  I highly recommend them.
Darren – Corona, CA
---
They recently installed over 3,000 sq. ft. of turf in my front and back yards.  We were very happy with their work.
Before hiring them, I met with 3 turf contractors and obtained 8 or 9 sample squares of artificial turf.  We felt that Green-R turf's Rhino Fescue was clearly better looking than the others. It has less of a shine and the shade of green was the most natural.  It also stood up the straightest.  Besides that, I got the feeling from their rep, Kenny, that I could work with him better than the other contractors I interviewed.
After we signed the contract, it took about 2 months for us to navigate the water district rebate program, but that's not Green-R Turf's fault in any way.  Kenny gave me advice throughout he process. After we got our approval from the water district, they started right away.
I was away at work most of the time they were installing the turf, but two of my neighbors complimented how hard those guys worked. Seriously. I couldn't believe how quickly they did the removal of the old turf and installation of the base layers.  Would definitely recommend (and have recommended to friends).
Brady – Aliso VIego, CA
---
Best choice for Artificial Grass period.
We all need to save time, stop looking for an artificial grass company. Go with Green-R Turf. I got four bids and Green-R Turf was priced right in the middle.
When scheduling ask for the Carlos crew, they are perfectionists. Exactly the type of workers you want when paying your hard earned money. Professional, polite, respectful of your property and answers all questions.
The finished product was perfect and I am very picky about workmanship. Three of neighbors complimented on the quality of the work and how great the Rhino Fescue looks on the first day. When they suggest Rhino Fescue, go with it.
If you respect hard workers, the Carlos crew is the team you want for your project. They arrive, set up, install a great product to perfection and take pride in cleaning up. I don't always get it right but with Green-R Turf, I hit a Home Run. Could not be happier. Thank you to Robert, Benny, and especially the Carlos crew.
David – Anaheim Hills
---
Our experience w/ Green-R Turf was fantastic! Kenny from the sales team was extremely knowledgeable, and made numerous trips on site to talk us through the process, offer different turfs, and help us w/ some unique needs (gopher mesh). Chris was the onsite manager, easy to work with, and made sure all the equipment and material was cleaned up every night. The team was very professional, starting when they said the would and completing when they said they would, even coming out over the rainy wk/nd to secure the material and minimize the impact of the rain on the work that was in progress. The lawn looks beautiful and the process with Green-R Turf couldn't have been a better experience. Can't recommend Green-R Turf enough.
Jim – Santa Ana, CA
---
Green-R Turf just installed an artificial turf putting green in my backyard. These guys were really great. The crew (up to 8 workers) showed up on time, worked tirelessly, and cleaned up after themselves each day. Removing the grass from my yard before installing the putting green was no easy task, but they handled it quickly and professionally. They completed the job in 4 days and the putting green is beautiful.  Chris, the foreman, was very conscientious and dependable. He quickly addressed any questions that I had the job and he earned my complete trust. I highly recommend this company!
Jerry – Irvine, CA
---
Where do you begin when you find a company that has "old school values" and modern technology…. From start to finish Robert and his team work with you every step of the way to make sure that you are happy with their work. They know that this is your home and an investment that you are entrusting to them. When you speak with Robert,h e makes you feel at ease with his experience and patience to answer all of your questions. When his wonderful team arrives they are professional, courteous, and they too answer any questions that you have while they are installing your new lawn.  This is an amazing company, and we are so happy with our new front yard!
– Shannon – Newberry Park, CA
---
I had my backyard done this February for my young sons who have skin issues. The product is far superior to the other samples we looked at from other companies in color, texture, and durability. Kenny provided us with exceptional service from start to finish. Chris and his crew were thorough and professional with the 2,000 square feet we had installed. The turf is holding up great with our one-year-old 80-pound German shepherd as well. I highly recommend Green-R Turf as this is the best investment our family has made. We couldn't be happier with the end result.  On a side note, our kids and their friends started a tradition of running around barefoot now outside!! –
Adam – Menifee, CA
---
Kenny our sales rep is great, very detailed oriented.  The crew was very professional, fast and cleaned up after the job. Great price as well, we interviewed three companies.
Rod -Laguna Niguel. CA
---
I called this company and was very impressed with the end result.  My backyard looks wonderful.   The employees were very knowledgeable.   Their attention to detail was excellent.
Christy – Placentia, CA
---
After having 3 different artificial turf companies come bid our job in the backyard. Robert and Green-R Turf definitely made us feel they were the best company for the job. Robert and his installation team listened carefully to what we wanted and ensured we were satisfied through the entire job. He and his installers were always professional. We will definitely use him for the front yard and will refer him to anyone looking to do artificial turf.
Jeff – Corona, CA
---
Robert and his crews are second to none. Their highest concern is customer satisfaction, and it shows from start to finish.
Jon – Yucaipa, CA
---
I can't say enough good about Robert and his installer. From the beginning, he was professional and knowledgeable and very helpful in helping us figure out what we wanted and what would fit into our budget. I really appreciated him helping us figure out what was best for us and thinking about added landscaping when I was just thinking turf. His installers were fantastic too. Very professional and efficient. They did a beautiful job and cleaned up after they were done. I couldn't even tell they were working that day except they left us BEAUTIFUL green Turf where our dirt and weeds were before. Thank You Robert so much !!! I will refer You to everyone
Suzi – Norco. CA
---
We had Evergreen Pro installed in our backyard in August and we LOVE it!  It looks great, feels nice on bare feet, and it's a snap to clean up after our puppy, Callie. The installers did a fantastic job and everyone who sees it is very impressed.
Paula – Camarillo, CA
---
Wow. So impressed by this place. Robert is very knowledgeable and helpful. I really wanted artificial grass installed before my sons birthday and they made it happen no problem. The crew was great. Everyone was so nice and our grass looks great! They made sure to give us what we needed because we have a dog and were worried about it using the grass for a bathroom. This is a great company to work with.
Stacy – Seal Beach, CA
---
Robert (President of the Company) truly means he's not happy until your happy.  We selected turf based on a sample.  When installed it looked a lot different than expected and seem to be defective.  Robert worked with the manufacturer to credit us for the cost of the turf, helped us select a new turf more to our liking and installed it without additional cost.
Never a complaint or harsh word, he just wanted us to be happy.  Thanks Robert for going above and beyond.
Steve – Newport Beach, CA
---
Positive Reviews without Star Rating on Yelp.
Robert and the installation crew were great! Everyone was professional and courteous. Our turf looks and feels fantastic. We will be calling them back to install in our front yard when the time comes! I would recommend Green-R Turf to anyone looking for a great experience and quality product.
 Heather – Corona, CA
---
I was at a celebration for a doggie day camp company and saw a Green-R Turf advertisement.  I had been wanting to get artificial turf for my backyard, so I stopped and talked to Robert Chavez, the owner.  He seemed knowledgeable and gave me a quote on cost.  I had him come to my home and Robert measured the yard and gave me a good price.  I hired his company and the turf was installed within a couple of weeks.  After it was in the turf looked GREAT!!  Unfortunately, 6 days later my gardener came to my home and mowed the turf even though I had left him messages about having the turf installed.  The turf looked terrible!  I immediately called Robert, told him what happened and he came to the house to see the damage.  What impressed me was Robert made time to come out to the house, he had other appointments but fit me into his schedule.  Robert looked the turf over and calmed me down.  Robert had his workers come back over, refill the turf at minimal cost.  I was afraid it was going to cost me an arm and a leg to get the turf looking good again, but it didn't.  Green-R Turf was more than willing to do whatever I was comfortable with in order to resolve the situation.  This company is the best I've ever dealt with and when I'm able to put turf in my front yard Green-R Turf will do the job.
Toni – Indio
---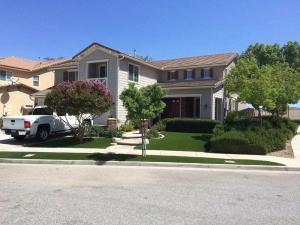 We are ecstatic over our new lawn. The artificial turf they installed for us looks absolutely fantastic.  We are very impressed by the professionalism and courtesy displayed by all of the staff members at Green-R Turf who were associated with our project.
As consumers, we are always concerned with the quality, price, and service of the products we buy, especially when the project is fairly expensive. All of those concerns were addressed last June when we first met with our sales rep, "Gabriel" and Sales VP "Kenny." They thoroughly explained their product options, pricing, installation, and state rebate requirements. Even though they were confident in their company and product, they were never pushy or insistent on making a sale. Somehow they knew the state rebate application would be approved in late August, and scheduled the install for the first week of September. They were right and true to their word, the install was completed in two days, on September 4th.
We would like to acknowledge the project foreman "Ben," the site supervisor "Carlos," and the entire install crew. They were highly knowledgeable, efficient, and polite. No matter how busy they were, they took the time to answer all of our questions.
Our experience with Green-R Turf has been nothing less than exceptional. Please fell free to use us as a reference, and thank you for a job well done.
Sincerely,
Gerry and Maria Teplansky
Lake Elsinore, CA
---
Green-R Turf Artificial Grass Reviews on Yelp and Google!
Call us Today (951) 532-2861
Green-R Turf Artificial Grass – 11741 Sterling Ave E1, Riverside, CA 92503.